breathe life into the desires of your soul
soul complete blends of all natural perfume oils
hand poured, hand crafted
made with love

It's more than a fragrance – it's an experience. A love ritual
through which you enter the unique emotional, spiritual and physical
wildlands, waiting to be discovered.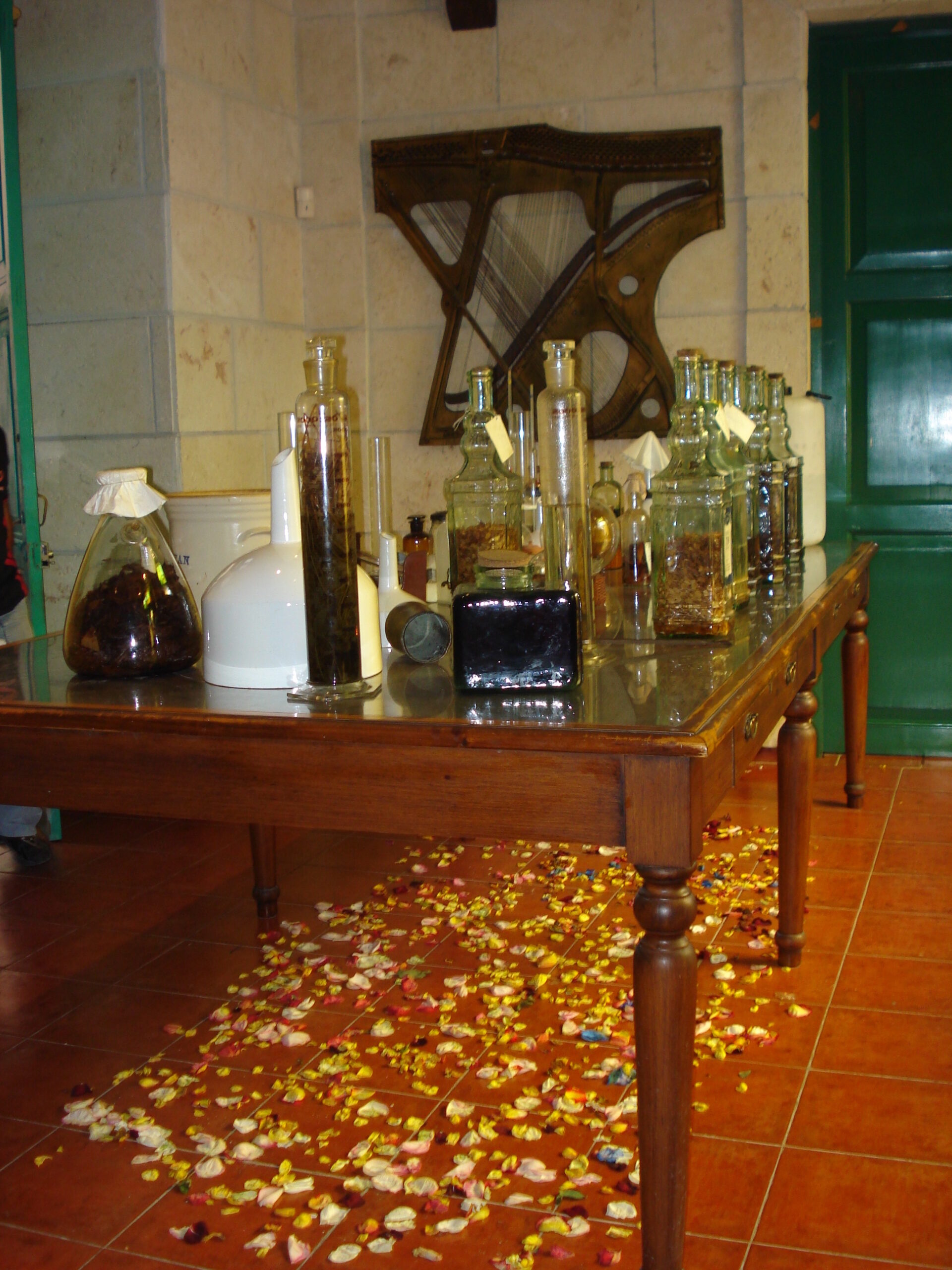 Welcome to my parfumerie!
My indie perfume house creates artisanal perfume oils blended of the purest ingredients. I approach all my work with soul, heart, and the highest sense of reverence and devotion.
Hand poured and hand made, my perfumes are soul complete blends of all natural love oils.
I use premium organic absolutes, wildcrafted natural essential oils and pure aromatic florals that are imported from Madagascar, Bulgaria, India, France, Ecuador and Indonesia. The oils are of the highest grade and quality, all carefully selected by me. Tested for purity and authenticity, I source only from fair trade suppliers or directly from the smallholder farmers, thereby supporting the communities and families of the farmers. Some of my sourced oils are further contributing to projects in sustainable development, providing education for women and children, and nature and wildlife preservation.
My perfumes are blended with special love oils inspiring heart opening and allowing you to call in beauty and creativity, while you lay upon the fertile grounds for love, deepening you into more intimacy, connection and awakening of your sensual self.
Our sense of smell is powerfully connected to our emotional body and fragrance has many wellness benefits, including both therapeutic and metaphysical, which I list below.
become a body of love rituals
Applying fragrance is an experience, poetry unfolding on your skin.
My perfume oils are a love ritual as we nurture both body and soul. The carefully crafted oils are not mere perfumes – they can be used in spiritual and love baths, and encourage habits of self-care and love from the inside out, while offering the nourishing and restoring of body from the outside in. I am currently offering spiritual bath and love bath guides aligned to the natal moon and unique energy of each client, as well as customized wellness rituals – and as I launch my perfume oils, expect to find in the future other products of my blends, such as bath oils, bath salts and teas.
These love rituals allow us to experience life more deeply and fully, embody the true essence of ourselves, and settle beautifully into our soulskin. 
Perfume oils are applied directly on your skin with little wands, which makes for a most beautifully feminine and sensual experience. They are highly concentrated and so you only need just a tiny dab on your neck, wrists, chest or décollete, or as Coco Chanel once famously said, "apply a dab of perfume wherever you want to be kissed." The long-lasting aroma will wear your day taking you into the night.
Scent is also very important in aligning us to our natural rhythm. With so many harmful contents and toxins in cosmetics, our hormonal health is constantly disrupted, and our bodies can become too numbed in our senses. My perfumes are blended in organic carriers such as jojoba oil and grapeseed oil, which are full of skincare benefits including hydrating, moisturizing and balancing the skin, anti-aging benefits and soothing of fine lines, and protection against free radicals. This is unlike eau de perfume sprays, which have alcohol and can irritate and dry your skin.
Perfume is not something made to change you. It is not something to be sprayed all over your body and clothes, so that you drown in it. The scent of a perfume is meant to complement your own natural scent of skin. It is meant to be a bit subtle, mysterious, alluring another towards you in an art of seduction; where their eyes shift towards you as they are becoming awakened in their senses, wondering what is that scent I thought I just felt ...
and they come closer and closer to you,
closer.
There it is,
vanilla on your neck.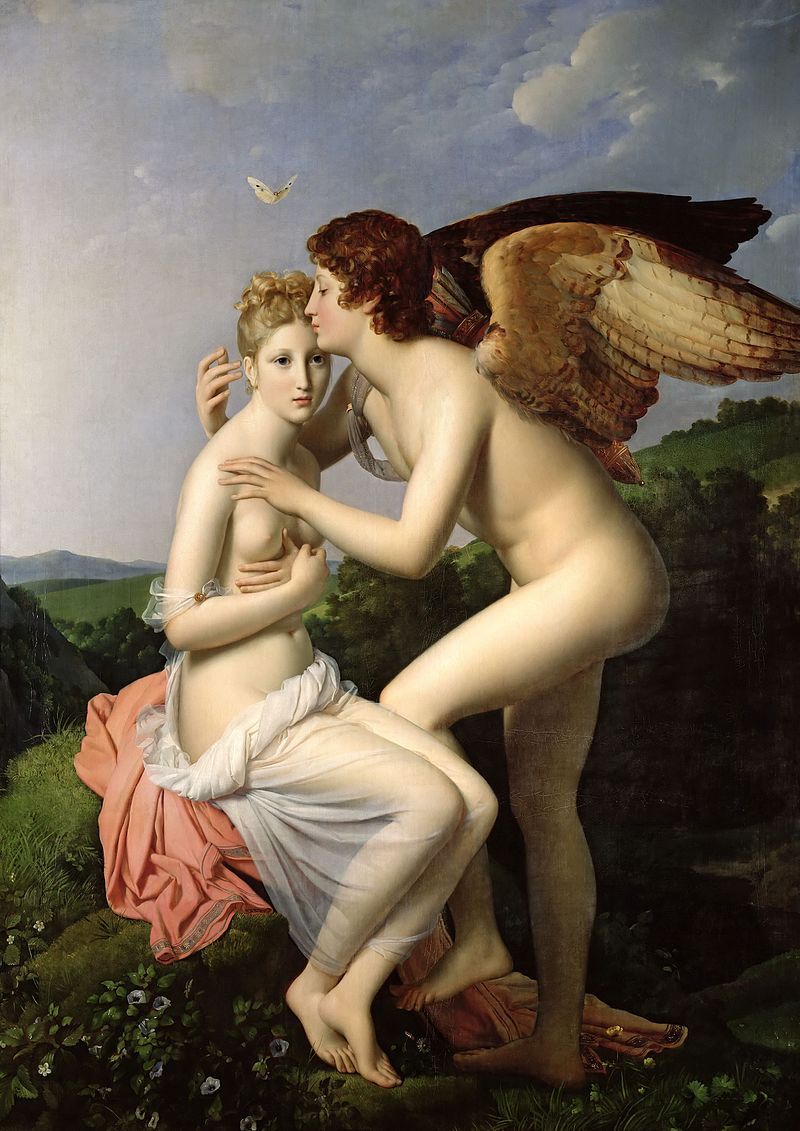 Inspired deeply by love, and always and forever only love, I wanted to create perfume oils that would capture true romance, beauty, love, fidelity, passion and soul connection. And surely, one of the most beautiful love stories in myth was of Eros and Psyche. Their story is one where body meets soul for the purified true love to become capable of transcending time and space. And when Eros, the God of pleasure and desire, kisses Psyche, the beautiful maiden carrying the name meaning "soul", we breathe life into the desires of our soul.
In my blends I mainly focus on aphrodisiac oils that offer the therapeutic and metaphysical benefits of love, attraction, heart-opening, intimacy, fertility, and expansion of creative self-expression. These are the so-called love oils. They focus on stimulating the sacral chakra and opening up the emotional center of our body – our heart, which is the initiatory pathway to higher consciousness. In this way, these love scents open the gateways towards the intimate explorations of our deeply spiritual inner worlds. Essentially, we connect heart to spirit, and bring ourselves back to love, and back to our true authentic selves.
When our heart center is developed, we begin to experience more compassion, empathy and inspired creativity. We become spiritually aware and begin to see things beyond ourselves developing a natural selflessness. We experience a natural interconnectivity with the world around us and how all flows in unison and is interdependent. When our heart center is developed, we embody love in our every day gestures and movements, we become it, we live it – we live in love. And what drives us forward is our desire to contribute, evolve and love even more.
Browse through some of my main natural ingredients that I'll be blending in my perfume oils, and where they are sourced from, further down this page.  
You can also read my article The Magical Properties of Love Oils where I discuss the therapeutic and metaphysical properties of the love oils: vanilla, jasmine, patchouli, ylang ylang, raspberry and rose. 
If you've read my poetry books you know how much I love scents and to use images of words to invoke the senses. And if you know me in real life you know how much I love to experience myself through the senses. I love touching fabrics and textures – silk and cashmere, the surfaces of wooden tables, rugged rocks and smooth pebbles outside in nature, and touching the petals and leaves of beautiful flowers. I love the taste of chocolate on my tongue, I love long baths in jasmine and ylang ylang oils, and I love vanilla candles scenting the entire house.
Our five senses are incredibly important in our life and guide us forth. As we sharpen our senses, we open the intuitive pathways of all worlds within and without, and are then able to experience ourselves, and all and everything, in deeper, more meaningful and more fulfilled ways. 
Our senses are also what grounding techniques are based on. If you think about it, grounding essentially means to come back to the present moment – which means embodiment. And there is no quicker way to ground ourselves than through our senses. Working with the senses is also one of the key components of feminine embodiment and invoking feminine energy. As women, we connect and align to our natural rhythm through our senses and learning how to work with them is what allows us to deepen into more self-awareness, intuitive ability and discernment. The list of benefits for our well-being goes on and on and on.
Our olfactory sense is one of our most powerful. The oldest and strongest form of memory occurs in the olfactory bulb – which is what connects us to the liminal, to spirit, to soul memory, to emotion, and to lineage. You know this: Each time you smell something familiar, you go right there, all the way back to the moment when that thing happened. Scents open doors because our sense of smell is so deeply connected to our emotional body and memories.
We enter doorways through senses – and in these rooms we conjure feelings, experiences, thoughts and emotions. When we know which door to open, we can invoke specific moods into our life. Each scent is also traditionally associated with particular emotions and body organs – which is why scents also have many medicinal and wellness benefits, and are a great technique for self-care, holistic well-being and as mood enhancers. In general, it is believed that we are attracted to those scents that we are currently aligned to, or are pulling into our aura, or are already in our energy field, or we want to embrace more; while those scents that we feel an aversion to are usually those we have current resistances to, or just those we are not focused on. 
Scent is very important in aligning us to our natural rhythm. With so many harmful contents and toxins in cosmetics, our hormonal health is constantly disrupted, and our bodies can become too numbed in our senses, negatively affecting our decision-making. For these reasons, I make sure that my perfume oils are made of the highest grade and quality organics, free from alcohol and toxins. 
open door open door:
browse some of my aromatic ingredients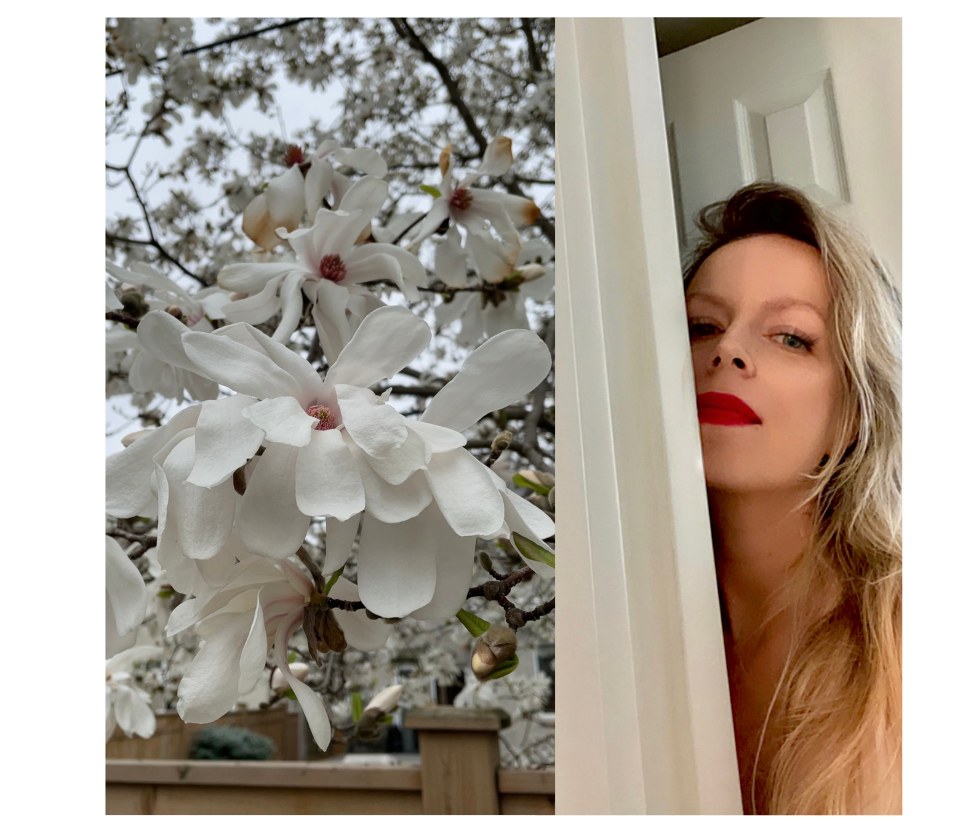 night falls in the moon garden
sweet cacao kisses the delicate petals of the rose
– an Eden,
in the heavens of our hearts
the eternal beloved
Vanilla plantifolia, Madagascar
Unmistakable. Undeniable. Vanilla is for the eternal lovers.
Sensual, deep and seductive, my vanilla absolute is made of the highest grade vanilla from Madagascar. I source it directly from there, supporting the communities and families of the farmers.
Vanilla absolutes are extremely expensive, which is why many oils out there are adulterated or with synthetic substitutes. In fact, around 95% of vanilla products in the market contain almost zero actual vanilla. But the nose knows, always. True vanilla absolute has a rich, balsamic vanilla aroma and is very sweet with a sensual complexity of depth.
Vanilla remains a really hard oil to obtain – which contributes to its precious qualities. And it still needs to be harvested by hand – if the vanilla beans are harvested too early, they lack flavour, and if harvested too late, they split open and are considered lower quality. Furthermore, it takes 9 months for a vanilla bean to ripen when it's ready to be picked. This absolute from Madagascar is extremely rare and extracted from cured Madagascar vanilla bean pods, yielding a dark brown viscous absolute with vanilla's signature suave and sweet warm balsamic-spicy undertones.
Vanilla is associated with the water element and the planet of Venus, and as such, it is connected to love, attraction, fertility, desire, and anything to improve the powers of the mind, create clarity and clear vision, as well as for money working, and to create a soothing, calming and self empowering atmosphere. Its rich and deeply sensual and seductive scent make it a well known and very powerful aphrodisiac. It invokes sensuality, sexuality, love, intimacy and romance – as well as feelings of peace, relaxation and serenity. Vanilla also enhances emotional growth and is a heart-opener.
An interesting fact about vanilla is that its flowers must be pollinated within 12 hours of opening, or they won't produce vanilla beans. This reminds us of the rarity of love, and that once we find it as must treasure it. Contrary to popular belief and the overuse of the word, soulmates are rare. Their love goes beyond anything we might imagine, and they immediately surrender in the powerful intoxicating sweetness of their love, desire, complete devotion and fidelity. In the ancient mystical texts it is said that once they meet it'd be hard for them to focus on anything else, which is why it is rare to meet such a love.
The white blossoms of the vanilla further remind us of the purity needed even along the most sensual of walks. Love itself is like the Eternal Virgin. The Eternal Virgin is the energy of that which does not transform because of the external world – she may be swayed, yes, but she stays true to herself, to her scent, to her inner essence, and the heart's purity.
This is vanilla. Eternal. Unmistakable. It is love.
Theobroma cacao, Ecuador/France
Deep, luxurious, intoxicating and dangerously seductive, cacao absolute is a powerful aphrodisiac and an invaluable ingredient in perfumery. Many years ago, while roaming the streets of Havana, Cuba, I found myself in a precious little parfumerie. I was immediately enchanted by all the flower petals on the floors and the delicious blends of oils poured into crystal and glass vintage bottles. There, I dreamt of having my own parfumerie some day. There, I was also made my first ever custom blend chocolate perfume – the scent of which so deeply embodied my own inner essence. Theobroma cacao has always been one of my most beloved scents and I am so excited to have this absolute in my collection – as it patiently awaits its upcoming perfume oil blend!  
My organically produced chocolate absolute is extracted from the bean of the Theobroma cacao tree, which is the source of chocolate and cocoa butter. It is first sourced from fair trade organic cacao in Ecuador, and then subsequent roasting and processing of the cacao beans takes place in France.  
Cacao is ruled by Venus, the goddess of love, romance, sensual pleasures, fertility and beauty; and on a therapeutic and esoteric level, the aroma of cacao absolute soothes the heart chakra, is meditative and calming, and encourages creative self-expression. 
Cacao is considered sacred and used in ceremonies related to heart-opening. Modern research also shows that the active cacao ingredient theobromine (known as "food of the Gods") is able to widen the blood vessels and stimulates specifically the heart. Cacao is related to opening up the emotional center of our body – our heart, and connecting us to spirit. Essentially, cacao brings us back to love, and to ourselves. We return to our authentic selves, connect to our higher path, and follow the calling of our true heart's desires.
Jasminum grandiflorum, India
Jasminum sambac, India
Jasmine awakens the emotions with its warm sweet fragrance and blends the sensual aspect of love into the spiritual love.
The word jasmine comes from the word "Yasmin" which translates to "gift from God" and it was named because of it's amazing scent. There are two main kinds of jasmine: jasmine grandiflorum and jasmine sambac. Sambac blooms late in the evenings and its scent is deep, exotic, a little musky and very sensual; and grandiflorum is more floral, gentler and softer in comparison.
Both my jasmine absolutes – jasmine grandiflorum and jasmine sambac – are sourced from suppliers in India who are part of the World Fair Trade Organization, Fair Trade India and work in sustainable development with their local communities, also providing education to women and children.  
In India, jasmine is known as the queen of the night. The flowers release their aromas at dusk, so they are picked either at night, or before dawn since this is when their scents are the sweetest and most potent. Only a tiny amount of oil is obtained by solvent extraction, which makes the jasmine absolute one of the most expensive oils in the world. True absolute is rarely used because of its high price, which is why they are usually synthetic substitues, highly dilluted or adulterated. 
The night blooming Indian jasmine is an incredible addition to any moon garden. It scents the gardens so sweetly, that poets have long been enchanted by it – which is why it is called "poet's jasmine". I think of night jasmine as the Scheherazade of flowers – it awakens its body under the starlit skies, to enchant us with tales of love and romance. 
A powerful aphrodisiac, jasmine is known for its associations to purity, devotion and deep love. Because of its association to spirituality, gentleness and purity, it is used for spiritual or soulmate love. 
Esoterically, jasmine relates to the sign of Cancer and the Moon, also Venus and Aphrodite, and the water element. As such, it promotes sensuality, fertility, beauty, prosperity, happiness, and healing.
Jasmine grandiflorum organic absolute: A soft and voluptuously sweet organic absolute extraction of jasmine grandiflorum flowers from India. The delicate star shaped blossoms of Jasmine grandiflorum are hand harvested with the rising sun to capture the finest expression of this supremely sensual flower. A soft white floral with delicate vanilla-like undertone, jasmine grandiflorum is the quintessential aphrodisiac.  
Jasmine sambac organic absolute: My pure organic jasmine sambac absolute is a captivating honey sweet floral with bright tropical green notes, that adds depth and complexity to make a powerful aphrodisiac. Its intoxicating aroma deepens the intimacy between lovers and the long-lasting complexity of scent unfolds in mystical layers throughout the day, taking you into the night.
Roses are my favourite flowers and I've been enchanted by them since I was a little girl. Always dreaming of having a rose garden, they are an inevitable part of everything that I create in this life.
Ethereal and eternally romantic, multi-layered, sensual and mystical, the rose is the flower of all flowers. The Bulgarian rose, or rosa damascena, has been cultivated in the Bulgarian Rose Valley for over 300 years, and is considered the best oil-bearing rose worldwide. It is velvety and darker than the Turkish and May rose, invoking deep ecstatic sensuality due to its seductive sweet scent. It is deeply rich, complex and alluring.   
My Rose Otto is certified organic and is steam distilled from blossoms of Rosa damascena grown in the renowned Rose Valley in my native land of Bulgaria. The valley is the producer of the most valuable and expensive rose extractions in the world, and the damascena has been cultivated there for nearly four centuries. 
Bulgaria's Rose Valley region produces the highest performance rose essential oils in the world, due to both perfected production techniques and the properties of the Bulgarian rose itself, which has been shaped by generations of careful cultivation and from Bulgaria's unique geography. Because of its high cost, many manufacturers use alternate rose cultivars and synthetics in their perfumes – all of which cannot duplicate the many benefits of true Bulgarian rose oil. 
The gathering of rose petals from the valley is a very delicate and labour-intensive process as it is done by hand while exercising great care. Immediately after being carefully hand picked, the roses must then be quickly transported to the distilling location, where nearly 1,500,000 rose blossoms are necessary to make just one kilogram of rose oil.
The Bulgarian rose has velvet-like petals and is known as the queen of the flower kingdom – the creme de la creme of all roses. Not only an aphrodisiac and associated with a long history of love, divinity and romance, she is also known for many healing qualities, for restoring emotional balance and for grounding. The aroma is deep, strong and complex.
As Gertrude Stein once said, "a rose is a rose is a rose," unless of course, it's a Bulgarian rose. 
Roses are sacred and a powerful symbolism of true and ever-lasting love, destined from a time before time beyond time. They are connected to purification, divine love, the feminine mysteries, and the priestess lineage – the priestess of the rose and the high heart.
In esotericism, the rose's petals actually form the womb of Self and are connected to divinity, fertility, birth, devotion, divine love and Christ's passion for humanity. Going back to Ancient Egypt, royalty would adorn themselves with roses for spiritual protection. They were the sacred flower of Aphrodite, the sacredness of heart's tears to bring in new life for the nightingale, the true love of the Little Prince, and the flowers that bloomed in all gardens when Eros and Psyche married symbolizing eternal love. 
Roses open hearts to welcome in more love, more truth, more beauty. They hold powerful energy and are always used in love oils and fertility baths, as well as religious rituals and ceremonies from around the world.
Roses are the birth flowers of June and are connected to the elements of water and the planet of Venus. They have always represented the deepest and truest love of all. They blend the spiritual soul love into the physical and emotional.
Warm, sensual and elegant leather aroma beautifully blending aphrodisiac Indonesian patchouli, Haitian vetiver, the extremely rare and seductively sweet organic night-blooming tobacco flower, and other deep, rich and woody aromas.
This accord is considered masculine but I find it a beautiful and edgy addition to my feminine scents of cacao, vanilla and the rich florals of rose and jasmine. It creates balance between the energies, and adds weight to some of my scents in a sensual marriage. Patchouli is primal, musky and one of the most powerful aphrodisiacs, vetiver adds earthy and woody notes, and tobacco flowers are sweetly scented, almost jasmine-like. 
Flowering tobacco, known as nicotiana, is considered sacred in many mystical beliefs, and is one of the most expensive and rarest oils in perfumery. It is a night-blooming flower, white and star-shaped, with a rich scent making it a much wanted addition to any moon garden. Its aroma is complex and multi-faceted – intense, sweet, yet woody, smoky, gourmand, with dried fruits undertones. Many people share how at night, especially under bright moons, the flowers look like they are glowing.    
Patchouli is a famous aphrodisiac, and has been used for centuries in fertility oils or to expand creativity. Spiritually, patchouli brings a sense of the sacredness of life.  It is also a fragrance of action, knowing that no ideal will occur unless we take the first steps to make it happen. Patchouli reminds us that sitting quietly under a tree is good because it too has a purpose – the purpose of appreciating and connecting to our inner wisdom. Sitting under a tree allows for the contemplation of what we can do to care more for ourselves and for others. As these caring thoughts enter our spirit, so too the caring for the tree that shelters us and for all else. Interconnection occurs, and we realize it is all one, not bound to any human boundaries.
My leather accord creates a fine leather aroma that is raw, edgy and sexy, while also sophisticated and refined.    
Cananga odorata genuina, Madagascar
My hyptonic ylang ylang extra is certified organic and comes from the first hour of distillation of ylang flowers grown in Madagascar. This ylang extra distillation is intense and sweet, displaying a mystifying creamy note and a sweet soft balsamic dry down.
This ylang ylang extra comes from a wild habitat group in Madagascar who help preserve the Nosy Be Lake region, while also supporting the local community and families of the smallholder farmers.
Exotic and alluring, ylang ylang extra is the queen of all ylang oils. Ylang ylang oils come in various grades with extra being the highest quality and best. Most ylang oils can have a bit of a medicinal scent but the ylang extra is a richly sweet and jasmine-like aroma, which awakens all senses. Ylang extra can be extracted only from specially selected flowers, which is why it is so rare and costly, and because of this, most times what is advertised as ylang ylang is not true "extra", but rather of inferior quality, mislabeled or adulterated. 
Ylang ylang is known as one of the most powerful aphrodisiacs, and similar to vanilla and patchouli, it stimulates the erotic senses of both men and women. 
The oil has many therapeutic benefits as well. It is known to relieve stress and inspire feelings of deep relaxation. It is very soothing and calmness, contributing to general well-being.
Ylang ylang is a feminine yin oil, so you can use it to inspire your own yin energy.
Associated with love, romance and sensuality, the Bulgarian rose is one of the most exquisite, pristine and richly aromatic roses in the entire world.
All perfume oils come with a little bag filled with dried rose buds and petals, hand picked from the world renowned Rose Valley in my native land Bulgaria. Some of my perfume oil blends are also infused in the petals to further deepen the scents and create a more multi-layered fragrance. Imported directly from the valley and carefully selected petal by petal, bud by bud, the proceeds of these sales support the locals communities and the women who work so devotedly and wholeheartedly each year in the Rose Valley.  
The Bulgarian rose buds and petals you'll receive are all natural and perfectly edible, and you can use them to make a rose tea inspiring love, wellness and romance, or sprinkle them in a bath along with oils and salts to soothe the skin. 
In addition to the rosa damascena, I also use the White Rose, rosa alba, in some of my perfume oils, which is one the rarest and most expensive roses. Its aroma is sweet, meditative and wonderfully calming. Mixing the two creates a sacred and mystical blend.  
I also use other florals for love, romance, and spiritual development in my infusions such as Egyptian jasmine, peonies, and lilacs among many others.  
And last, but certainly not least, I blend wild roses from our gardens.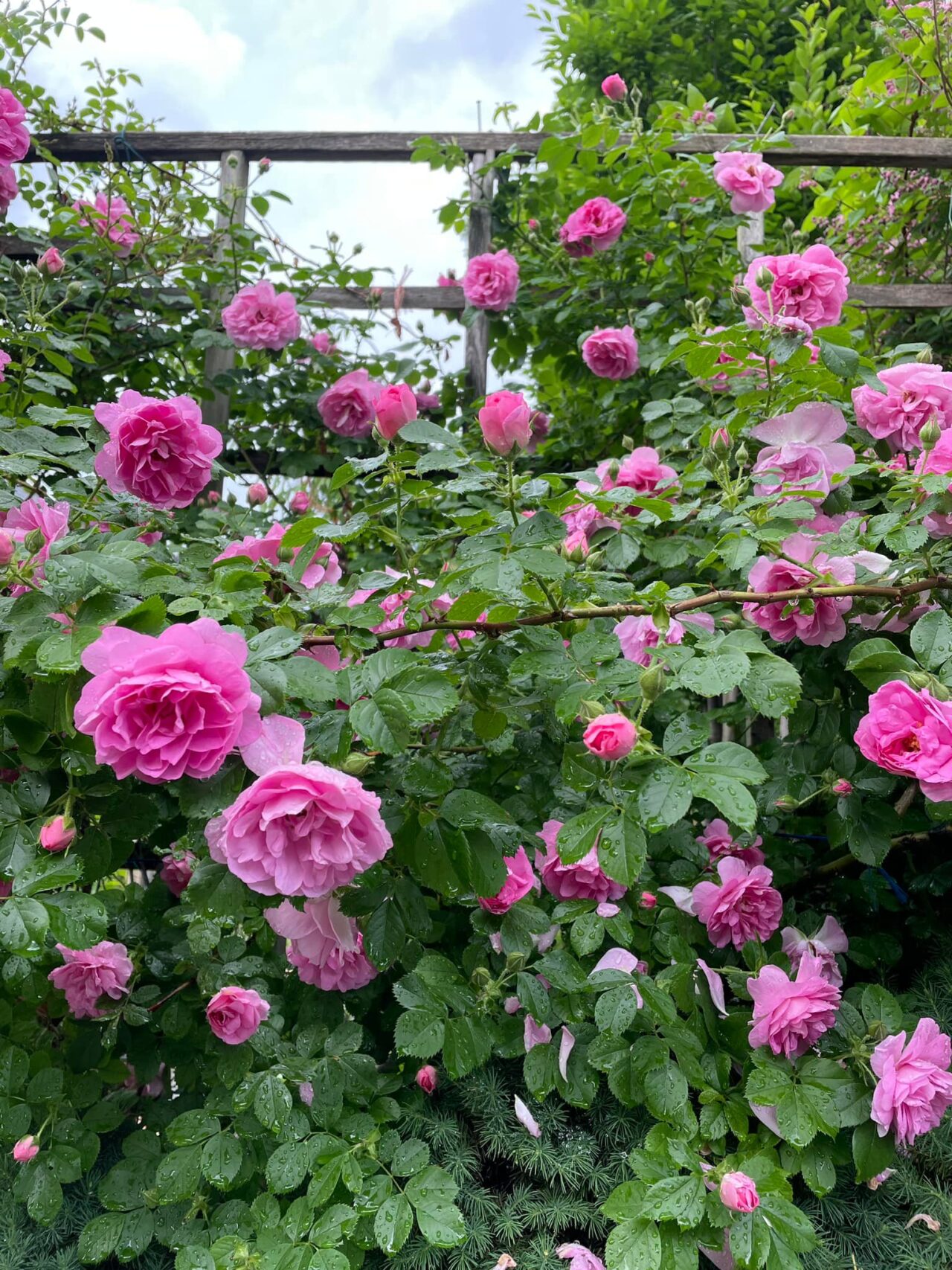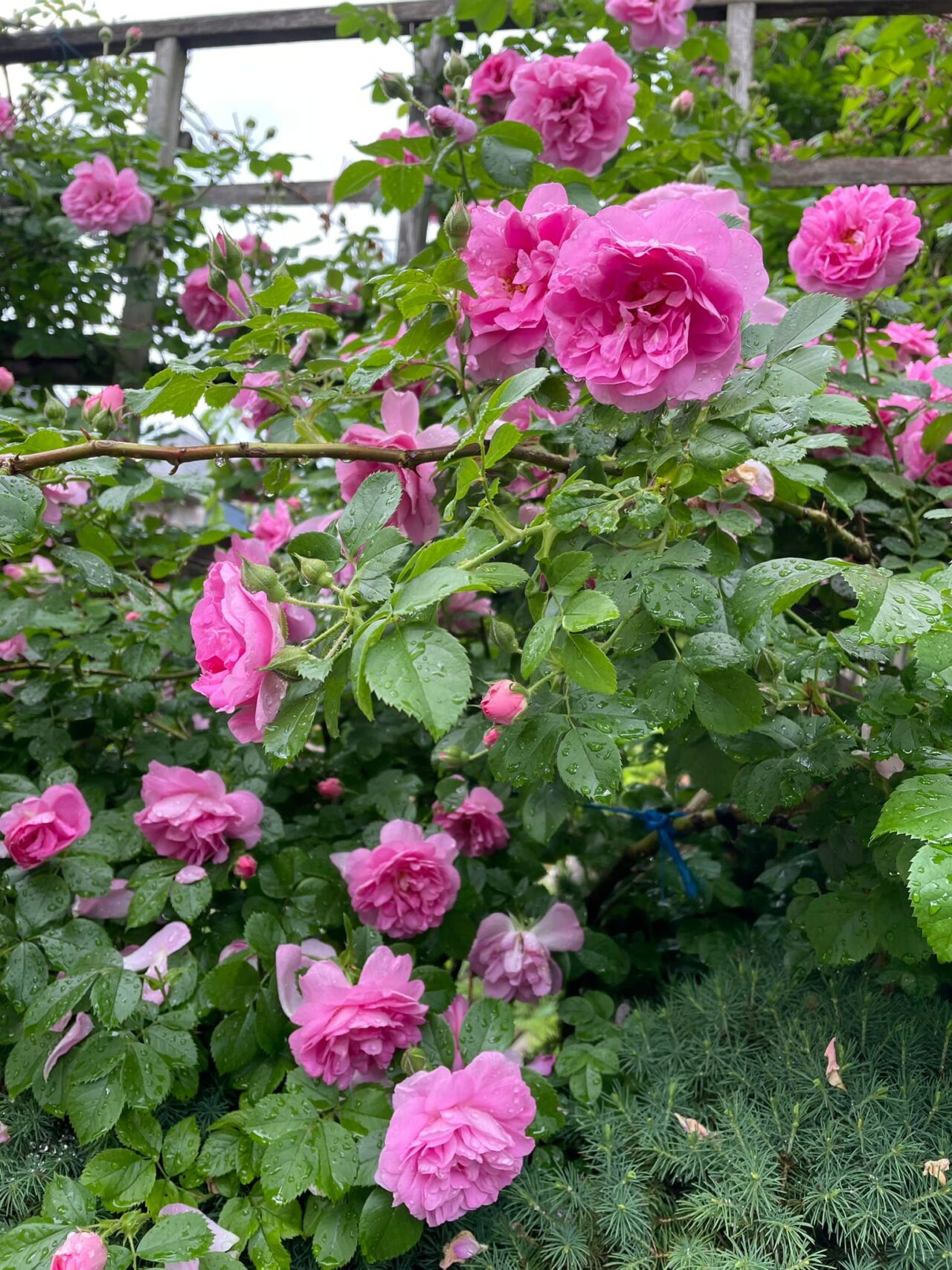 I love what I do, I love to create, and if you want to support me, you can do so by donating some magic coins in my hat on Paypal or contact me for investment opportunities. 
Thank you wholeheartedly!