Our souls have an innate love for beauty, and perfumes allow us the opportunity to deepen into love and strengthen all our senses of beauty.

If you've read my poems or any of my poetry books you know how much I love scents and to use images of words to invoke the senses. And if you know me in real life you know how much I love to experience myself through the senses. I love touching fabrics and textures – silk and cashmere, the surfaces of wooden tables, rugged rocks and smooth pebbles outside in nature, and touching the petals and leaves of beautiful flowers. I love the taste of chocolate on my tongue, I love long baths in jasmine and ylang-ylang oils, and I love vanilla candles scenting the entire house, and especially scenting my skin.
Fragrance is something I've always loved and I loved smelling perfumes ever since I was a little girl. I loved smelling my mom's perfumes, and everyone's else when I'd visit their houses. Ah and the bottles … they are a work of art! Being as aesthetically pleased as I am, I'd seriously sometimes buy a fragrance just because of the beauty of its bottle.
Fragrance to me is like an art of love, and it is not something to change you, wear you, to be overpowering or a beast mode – it is best to be subtle, natural, close to skin, or like soulskin, yet dreamy and mystical like a voice calling you towards itself, closer, closer, yes here is my neck. As Coco Chanel once famously said, "apply only a dab of perfume wherever you want to be kissed."
Fragrance is an enchanting and beautiful way to explore and express your own creativity also. Just as we experiment and play around with colours, make up, fabrics, dresses, words and music notes, we also self-adorn with oils and scents to experience ourselves differently and to invoke a particular mood, emotion and memory.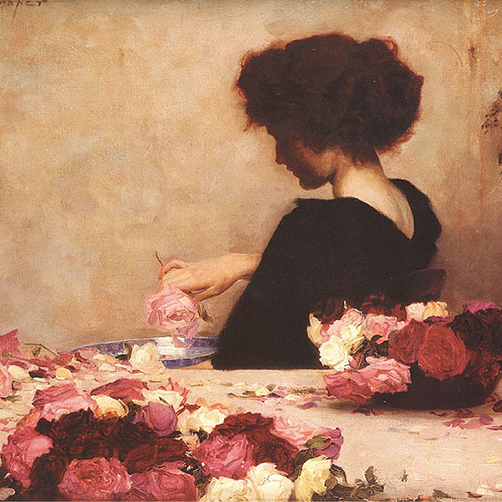 As I am currently working on creating my own parfumerie, and as spring is in the air, and summer is near (my favourite of all), I thought that today I can share with you some of my most favourite perfumes from my collection. Let's talk love and romance because after all, a perfume is love poem in a bottle shaped through our olfactory senses. Blending souls, hearts and memories, our loving hands shape it all. Emotions, experiences, inspirations and dreams – all exists in unique ways to each one of us.
As I'll be sharing my opinions I believe it's important to begin with a little bit about me and my preferences, so that you know where I'm coming from. As a personality I am quite feminine and have a style and approach that is softer, more delicate and elegant, while simultaneously I have a very sensual layer to myself so I love deeper and seductive fragrances. Because of all these I tend to prefer and love perfumes that are leaning towards skin scents rather than "beast mode".
I love the scent of natural skin, I love my own skin scent and I'm also attracted to other people's skin scents. I don't really find it attractive if a perfume wears the person and walks through the door before they do, and I believe that a perfume should be more of a complement to one's natural scent while also offering a sense of emotion, mood, mystery or seduction in the air. While I do have a few stronger perfumes that I'll share such as Guerlain's Shalimar, Jasmin Rouge by Tom Ford and Rose Prick by Tom Ford, I only use these occasionally and apply just a dab of them, or I spray once in the air and then walk through the mist.
When it comes to skin scent perfumes, it is important to also pick ones that dry down to a complementary scent to your natural skin, so it is best to try them out on your bare skin and see how the fragrance develops throughout the day and whether you love how it reacts and blends with your body chemistry. Each perfume will smell differently on each person, but this is even more so when a perfume has a lot of musk in its base – for some people sweeter musk will be more appropriate if their skin is naturally sweeter also. For example, my skin loves vanilla and it is my favourite note in perfumes, and my natural skin scent is sweeter, so anything with vanilla will be emphasized when I apply it and will be complementary and natural once it dries down while still offering silage and an aromatic veil in the air as I walk by. More than anything, be creative and experience yourself through fragrance – it is a wonderful thing to engage our senses in all we do.  
And now let's begin! Whether you are a fellow fragrance lover or not, I hope you enjoy and feel inspired in your own experience of scents also.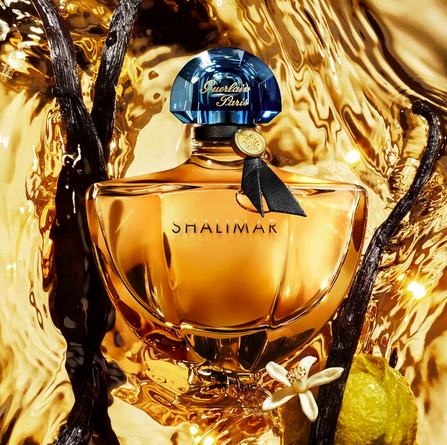 Top notes: Citruses, Bergamot, Lemon, Cedar, Mandarin Orange
Heart notes: Iris, Patchouli, Vetiver, Jasmine, Rose
Base notes: Vanilla, Incense, Leather, Opoponax, Civet, Sandalwood, Tonka Bean, Musk
To start with love, romance and fragrance, we need to start from the beginning with the eternal and classic Shalimar. Created in 1925 by Jacques Guerlain himself, this perfume is love poetry in a bottle. Guerlain travelled to India and deeply inspired by the beauty of the Taj Mahal gardens, and his experiences with the locals and the many stories and lore they shared with him, he created Shalimar as a tribute to the legendary love story between Emperor Shahjanan and his wife Mumtaz Mahal. According to the legend, when Shahjanan was twenty one years old, he met a young girl, named Arjumand Banu at the bazaar where her family worked. Mesmerized by her beauty, and after becoming emperor, he made her his wife naming her Mumtaz Mahal, meaning the "Jewel of the Palace". After the wedding, the prince and Mumtaz were inseparable, in war and in peace. She had him given 13 children and unfortunately died during the birth of their 14th child at the tender age of 39. Her death devastated him and he built Taj Mahal in memory of her and their undying love. Shalimar is named after The Gardens of Shalimar, which was Mumtaz's favourite garden.
A century later, Shamilar continues to be a best seller. And we can still smell and be transported to this love poem that Guerlain bottled up in a scent. Shalimar is not just a perfume – it is emotions and experiences translated by the olfactory senses so that we can enter worlds beyond us and ever dream, imagine, love …  And this is the beauty, and perhaps even purpose, of perfume.
Shalimar has a bit of a naughty history also. In the 1920s and 1930s, there were three things that a lady in France should never be caught doing: smoking, dancing the tango, and wear Shalimar, for only "bad" girls wore Shalimar. Known as the fragrance that basically inspired and still inspires all gourmands and orientals, this is one to know and explore even if you don't want to wear it yourself. Personally, I love it! Vanilla is my favourite note in perfumery, and the way Guerlain does vanilla no one else does even today. It's divine. Shalimar is a bit naughty in the sense that it has those slightly animalic notes at this base, but it is not an off putting smell at all – I actually find it very seductive and sensual. The dry down is like your skin but better. Vanilla blends with the musks and leather and it is so gorgeous; while light incense and romantic florals give it an aura of mystery. Honestly, I'd sometimes just smell it to feel inspired in my writing because fragrance is poetry, art, love, romance, storytelling, history, dreams.
A lot of people refer to perfumes by Chanel and Guerlain as "old lady perfumes" because, well, they are a hundred years old. I had a friend who wore Chanel N5 and an ignorant woman told her that she smells like an old lady because apparently her grandmother wore this perfume. Naturally it made my friend so sad that it brought tears to her eyes. My friend grew up in a country where she once came across a beautiful woman who wore this perfume and yet she could never have it because it was expensive and foreign. So when she came to North America, much later on in her life, she finally bought her Chanel and was ecstatic – only to then have tears down her cheeks because of someone's mean comment. So you know what I told my friend? I told her she smells like a dream come true. Because she made her dream come true. My grandmother didn't wear neither Chanel nor Guerlain, but even if she did I wouldn't refer to it as "old lady" – I'd be happy to be reminded of her smell. The reason why I am saying all of this is because 1. we need to be better mannered, and 2. fragrance is entirely personal, and there is no "age". 
I bought my Shalimar many years ago as a gift to myself during the winter holidays. It was a time of my life when everything felt uncertain as I had made big changes and closed the doors to the past. And while I had no doubt it were the right decisions, turning my life 180 degrees was scary and uncomfortable – where am I going, what will I do, what will happen? And I remember being in a store smelling perfumes to cheer myself and wanting to add something new to my collection – Manifesto by Yves Saint Laurent was my signature perfume at the time – and suddenly I smelled a thing called Shalimar and wow … It smelled like a dream, exotic and distant, unknown and yet familiar and soothing. If I had known how happy and fulfilled I'd be, I never would have worried a single second in my life. So to me, Shalimar smells like freedom, love, trust and belief in myself. It smells like the many new memories I made. It smells like the love and support of my family. It smells like the many other dreams I'll hopefully realize as well, and the ones that are shaping even if I can't yet see them. It smells like the mystery that life is, and the desires of our hearts pulled by voices older than us, and perhaps even older than time itself.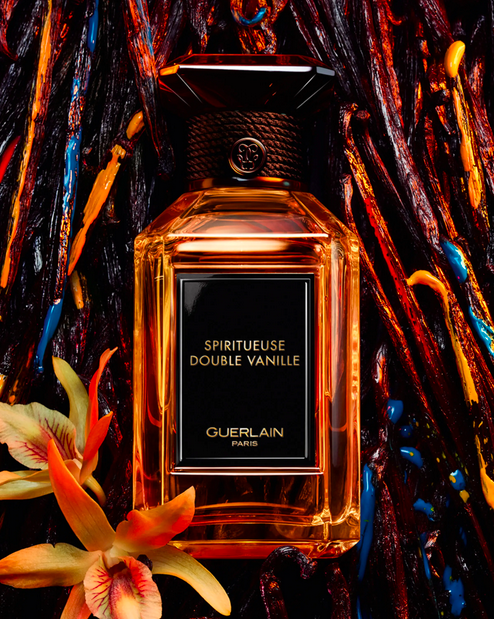 Spiritueuse Double Vanille by Guerlain

Top notes: Incense, Bergamot, Pink Pepper
Heart notes: Cedar, Ylang-Ylang, Bulgarian Rose, Jasmine
Base notes: Vanilla, Benzoin
Ah vanilla, vanilla, my eternal lover. My favourite note as I already mentioned is vanilla, and faster than I could blink I got my hands on this double vanille. Guerlain does vanilla like no one else, and I love love love this perfume! It is my signature perfume and I wear it almost all the time – and I even wrote my poem Spiritueuse Double Vanille because I was deeply inspired by it. Hot, cold, in, out, casual or not, I don't care, I love smelling my wrists with it and the trail of love it leaves behind me. On my skin, it smells, as described by others, as "yum yum yum". This is a gourmand lover's dream but it isn't too sweet – though it is certainly edible, but I am too, so there's that. The incense gives it deep mystery, and it is deep, sensual and unmistakable.
This is a bit of a boozy vanilla fragrance, so while rum isn't always featured as a note, it smells like vanilla, amber and a touch of rum – but is smooth, sophisticated, and just hinted at, so not overpowering at all. Along with the ambery notes, incense and florals, it is perfectly rounded and has the mystery and complexity that the vanilla needs to make it more sensual and intoxicating. Considered as one of the best vanilla perfumes today, and I certainly agree, Spiritueuse Double Vanille is realistic, sweet and undeniably good vanilla. This is certainly an addictive scent, and very very delicious. It's yum yum yum for sure. I love its dry down on my skin, because it becomes a sweet skin scent; and as my skin is naturally sweeter and loves and absolutely craves vanilla, anything vanilla that I put on will be even more intensified.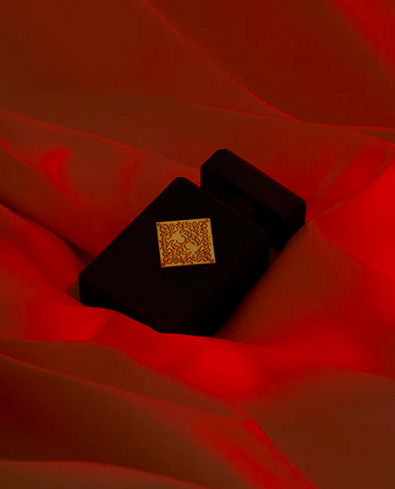 Absolute Aphrodisiac by Initio Parfums Prives

Notes: Vanilla, Amber, Castoreum, Leather, Musk, White Flowers
And welcome to my vanilla fragrance reserved only for special nights with the man of my heart. As the name suggests, this is an absolute aphrodisiac indeed, so you've been warned – do not wear this on some casual night out because people will want to eat you, or the very least – lick your neck. The vanilla here is edible, deeply sensual, with an almost erotic and primal sensation to it, as it blends leather and musk in a wild euphoria of a carnal dance awakening feline instincts in deep onyx private nights.
Initio Parfums Privés are a niche and exclusive French brand known to take fragrances to a whole new level. Using the power and science of pheromones, they blend together compositions of a captivating wild nature with their oil absolutes. The vanilla here is very sweet, almost desert like, and just really delicious but not too gourmand because of the slightly animalic undertones. It smells like skin, after it's been heated up in desire and rolling around vanilla, which is why many people describe this scent as "vanilla sex". There is a castoreum note here, but it doesn't smell "dirty", and the leather isn't overpowering neither. More than anything it smells like a perfect sweet amber vanilla – that is very inviting, seductive and yet sophisticated, and the animalic and sensual touches give it complexity and mystery, making it the best intimate fragrance when you are on a date with your partner. The silage stays close to skin which I love and why it is appropriate for dates and intimate settings, whether at home or outside. I love wearing it in any weather, and I cannot wait to wear it in summer nights too. Ah, so delicious and very very edible!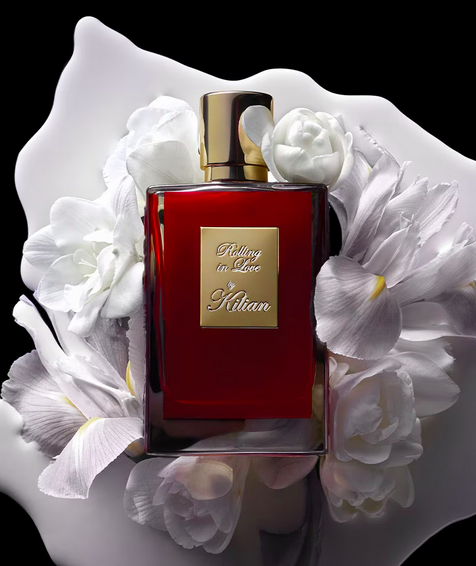 Rolling in Love by Kilian

Top notes: Almond milk, Ambrette (Musk Mallow)
Heart notes: Iris, Freesia
Base notes: Vanilla, Tuberose, Tonka Bean, Musk
Musky, dreamy and romantic, Rolling in Love dries down on my skin as sweet floral musk and I keep smelling my wrist. This too is a more intimate fragrance as it stays close to skin, which I love, and I can personally wear it all year long. In the summer nights too it is beautiful as the warmth makes it even sweeter on the skin, though I apply only a dab of it. I love the white florals and there is a sweetness in this perfume perhaps from the ambrette or vanilla or tonka or maybe it's just my skin chemistry, but it smells quite sweet on me. Kilian wanted to make a perfume that is really intimate and sensual, and describes it as an "addictive intimate cocoon". Truly it feels that way.
The backstory of this perfume is that Kilian was in a museum in Barcelona looking at the works of Picasso, and noticed how his style had changed through the years. Inspired to take a new creative approach in his art of perfumery, he created his first monochromatic fragrance. He describes Rolling in Love as a "white" scent, because he layered white on white on white with various textures such as the seven unique and rare musks that he used, and then layered these with white florals, almond milk, iris and ambrette seeds. The monochromatic idea was with the intention to represent a single flow of emotion: love.
The feeling I get from Rolling in Love is as if you are in your intimate emotional cocoon with your partner, you've kissed his bare skin with your red lipstick, and now you are just rolling around in white silk bedsheets and watching movies. I feel a lot of romanticism from this perfume, like the two of you are just dreaming of your future while also lavishing in the present of just being beside one another, and whispering sweet nothings in the ear. Kilian shares that over 50% of the notes are of musk, and together with the sweetness and white florals, Rolling in Love is meant to capture the sensation of feeling that you are so high on love that it is under your skin. This is what it smells like: love under the skin. I love that it becomes a skin scent on me because I prefer more subtle perfumes, and the musky notes are beautiful, airy and light. It is feminine, sensual, sweet and romantic. It is a dreamy fragrance to me, perhaps because it is barely there, yet lingers on the skin.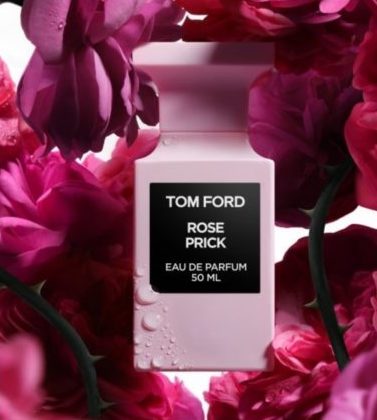 Top notes: Sichuan Pepper, Turmeric
Heart notes: Bulgarian Rose, May Rose, Turkish Rose
Base notes: Patchouli, Tonka Bean
Inspired by Tom Ford's private garden, I find this perfume to be really romantic and emotional. The first time I tried it was quite the experience for me. As background, roses are my favourite flowers, ever since I was a little girl I dreamt of my own rose garden, and my phone is literally full of wild roses photography. If there is a rose somewhere outside, that's where you'll find me. And perhaps it is precisely because of my deep love for roses, that I was never able to find a rose perfume that I liked – because nothing smelled like real sweet wild roses. And now another background – while I love Tom Ford and all he does, I was just never able to find a perfume of his that I liked. They all were just a bit too much to my nose. And so – one day I received a Rose Prick sample from one of my Sephora purchases, and immediately I sprayed it – because omg the pink bottle and rose petals!
At first I almost suffocated, because peppers and turmeric … not my favourite. And then after twenty minutes or so, as the notes begin to settle in their excitement and emotionality, I begin to feel so intoxicated and in love with this. And then another hour goes by, and wow the dry down is where the magic happened. I know many people say it smells like patchouli, but on my skin it just smells like a sweet, almost powdery, sensual, curious and adventurous rose. It smells romantic, feminine, it smells like rose skin warmth from the sun, and as if you've been laying in a rose garden on a hot day. The reason why I say hot and warm, is because the tonka beans warm it up and there is almost a bit of a vanilic undertone (though maybe that's just because my skin tends to be naturally sweeter and all becomes sweeter than it is); and the patchouli perhaps is what grounds it, so that it is not too spicy and green. Because when you have so many roses in the heart, that aren't usually married together, things can get a bit too much or intense. I know many people love Delina by Parfums de Marly as their ultimate rose perfume, but I do not like that one at all and something in it makes me nauseous; and to me personally, it doesn't really smell like the sweet roses from our garden. But of course, there are many different kinds of roses.
In old traditions and magic lore, patchouli is an aphrodisiac, just like jasmine, vanilla and rose, and patchouli is the most potent of them all. So when you combine patchouli with rose, it does indeed give a sensuality to it awakening your senses and the heat underground. I love Tom Ford's description of this perfume:
"Flesh … petals … thorns. Rose Prick is a wild bouquet of beautiful breeds, a trilogy of Rose de Mai, Turkish and Bulgarian Rose. Sharp and pristine, the piercing prickles of the stems hook onto each other, conding their blooms in pink perfection." 
Indeed, it is an intimacy triptyck of roses, protected by the spicy thorns, because all beauty and love is a kingdom to be protected, treasured and honoured.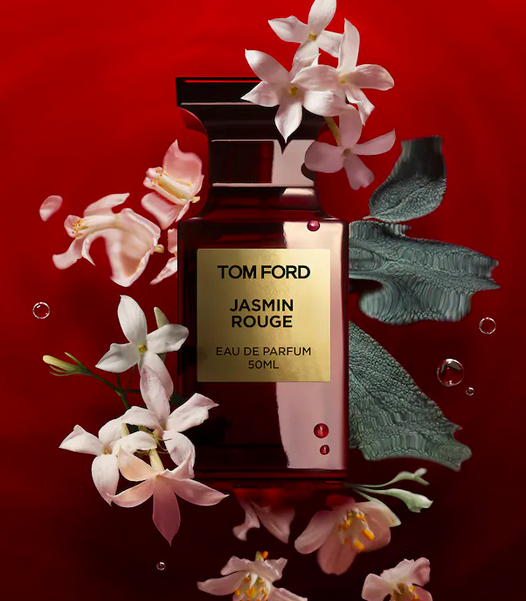 Top notes: Cinnamon, Ginger, Bergamot, Cardamom, Pepper, Mandarin Orange
Heart notes: Jasmine, Ylang-Ylang, Neroli, Broom, Clary Sage
Base notes: Amber, Woodsy Notes, Vanilla, Leather, French Labdanum
I remember many years ago I tried Alien by Mugler and thought wow that's a very strong jasmine! I love jasmine tea, I love jasmine flowers in the wild when I am walking in a park or a garden; and yet when it came to perfume, most jasmine ones were just too strong for me. Jasmin Rouge is a different. While it is still strong, so be careful applying it, the scent is so authentically jasmine – it literally smells like wild jasmine. If you are walking on the street and pass by someone, they'd probably start looking around for that jasmine – well, you are the jasmine, darling.
This was a blind buy for me, and I was really worried because Tom Ford perfumes tend to be too heavy for me – and when I saw all these notes packed into this, I was really hesitant to buy it. However, after watching many reviews of people saying it only smells like jasmine (which to them was a disappointment) I decided to get it. And it's a beautiful scent, though a bit strong for me. The silage is strong also, so perhaps not the best intimate perfume; but it is deeply romantic, sensual and mysterious. And it really feels like he has taken fresh wild jasmine petals and somehow made them into a fragrance – a jasmine love poem in a bottle. The fact that all the other notes are hardly noticeable noly speaks of the perfection of blending and the craftsmanship that Tom Ford is known for.
Whenever I think of jasmine in general, I think of nightly starry skies and romantic storytelling – something almost from a 1001 nights. And while there are yellow florals in this, and the bottle is a gorgeous red, what this mostly makes me feel is white silk. Jasmin Rouge is beautiful and very feminine, and while it is more subtle than most other jasmine perfumes, it is still really strong at least to my nose, and so I don't wear it often.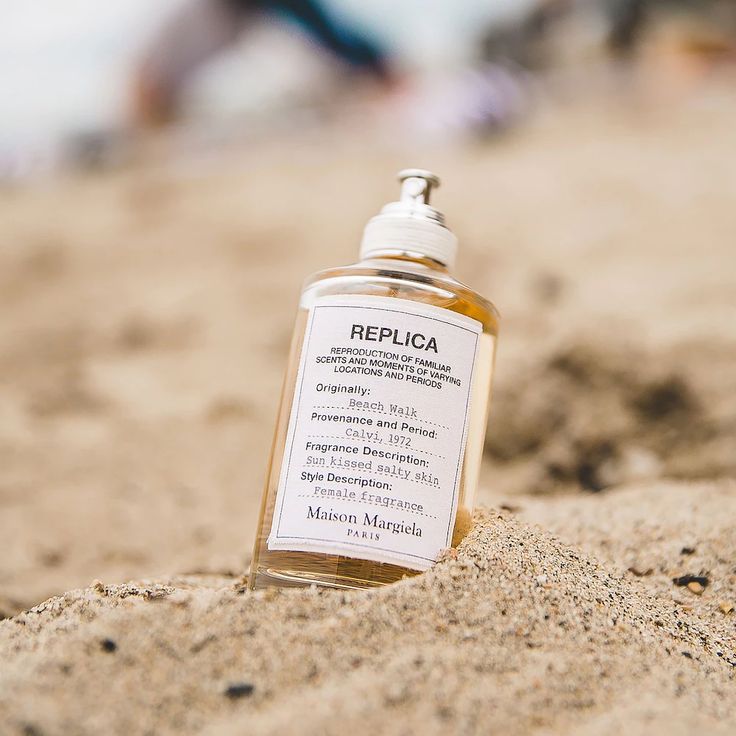 Beach Walk by Maison Martin Margiela

Top notes: Bergamot, Lemon, Pink Pepper
Heart notes: Ylang-Ylang, Coconut Milk, Heliotrope
Base notes: Musk, Benzoin, Cedar
I have deep love for this perfume because the first time I smelled it was when my mom and I were browsing some shops, and we both immediately fell in love with it, and started dreaming of the beach! Naturally, it is in my heart just like my mom is my entire heart – and we still love wearing it, all year long around the house!
The dry down on my skin is really beautiful, becomes skin scent that is slightly salty yet sweet, and it literally feels like you've come back from the beach – without the suncreen smell or overly coconut-y smell. If you've tried Soleil Blanc by Tom Ford, it is coconut-y – and it is creamy coconut at least on my skin, so it made me really nauseous when I first tried it. Beach Walk is not like that at all, and while I am sensitive to that creamy coconut note of the Soleil Blanc and this too has coconut in its heart notes, it just doesn't feel heavy at all – which is what I love. Beach Walk is soothing, peaceful, dreamy, fresh, clean, elegant, and an absolutely authentic beach scent. And of course, more than anything, it is a deeply sentimental and beloved scent of mine – as it's in my heart, forever and always!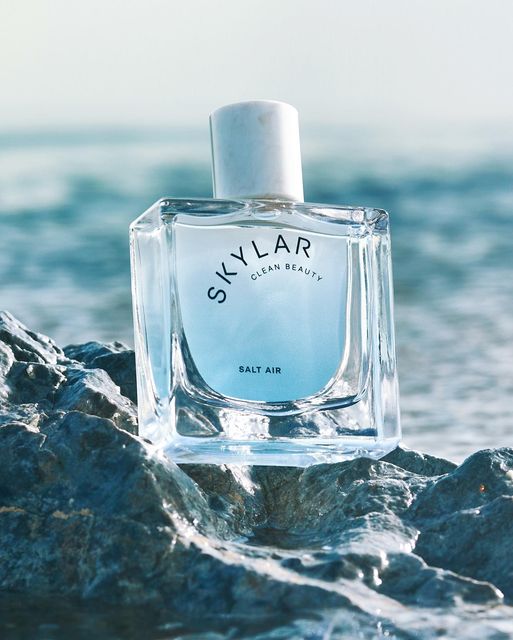 Top notes: Italian Bergamot, Sea Salt, Seaweed
Heart notes: Cotton Blossom, Water lily, Cyclamen
Base notes: Driftwood, Vanilla, Musk
Ah I love love love this scent! Wearing it really feels like an endless summer with romantic breeze by the sea. The scent is very clean and I love wearing it all the time in summer especially, or whenever I want to transport myself by the sea – even if it's in the middle of winter.
The best way that I could describe the scent is that it literally smells like its name: salt air. It is a very clean and light aquatic, which is sophisticated, elegant and very refreshing. The musky notes at the base make it so beautiful to wear, and it gives you an aquatic musky scent – so it's like your skin when you are by the sea, in the breeze, not sunscreen-y or creamy at all, but just light, natural and fresh. This is not an overpowering perfume, and I do not like "beast mode" perfumes in general; and as my skin is naturally more sweet, any sweet notes are even more emphasized, so it gives me such a nice sweet sea breeze scent and feeling. Absolutely love it!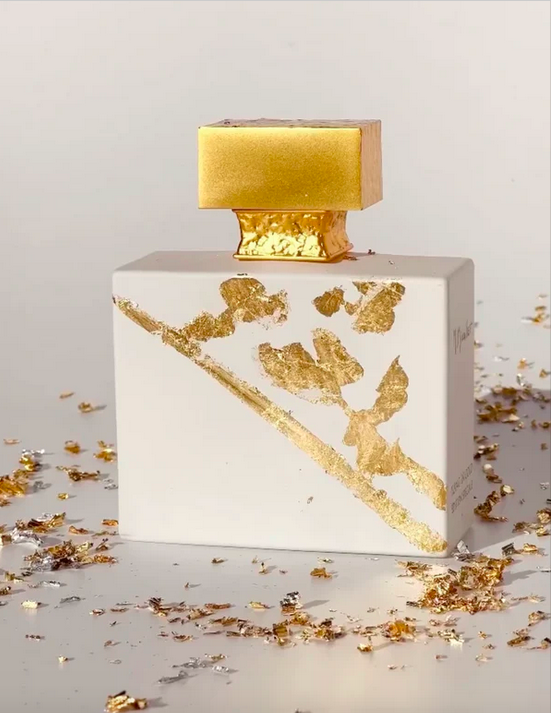 Ylang in Gold by M. Micallef

Top notes: Fruity Notes, Peach, Lichi, Sage, Tangerine, Rosemary, Artemisia, Geranium, Bitter Orange
Heart notes: Ylang-Ylang, Sandalwood, Mint, Magnolia, Rose, Lily-of-the-Valley
Base notes: Vanilla, Coconut, Musk, Oakmoss
Parfums M. Micallef is a niche French perfumery founded in 1996 in Grasse, France, the world capital of perfumes. When Martine Micallef and Geoffrey Nejman met one another, they fell deeply in love, and of their beautiful passion they wanted to create love in many other ways also – which is how their perfumery was born. Nejman was working in finance at the time when they met, and while working on a perfume brand sampling various ingredients, one day Micallef proposed that they make their own perfumes. And so it all started – out of love.
They have a beautiful garden in Grasse where they pick their own flowers such as jasmine, rose and tuberose, as they are dedicated to keep hands in the flowers; and then they make the perfumes in their workshops nearby. Martine Micallef designs all the bottles, and all bottles are unique, hand made, and each jewel is placed by hand – so it is a work of art, which I absolutely love. For their special edition of Ylang in Gold, they decorated the bottles with gold leaves and each one features a unique pattern.
Sensual and sun drenched, the fragrance is classified as an oriental floral. It is romantic, exotic, feminine and elegant, with an almost banana-like aroma. So while there is no banana note, the blending of all give it the sweetness and tropical feel making it beautiful to wear in spring and summer. What I love most about M. Micallef is of course, as a fellow romantic, their love and passion brought to life both in fragrance and in bottle. Isn't that what perfume is anyway – a story of love – to feel, experience and be told.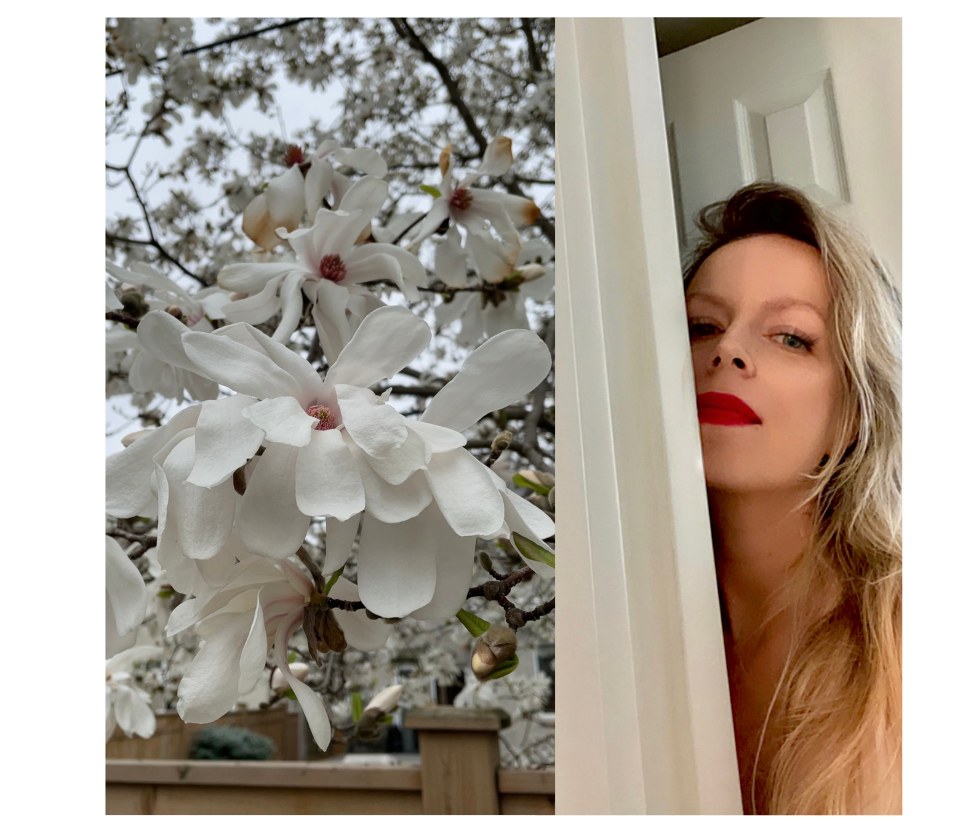 I am currently creating my own parfumerie, and if you'd like to support my work and art of love, you can do so by sharing my Art of Love articles and poems, buy my books or donate some magic coins in my hat on Paypal. By supporting me, you allow me the freedom and ability to be even more creative and contribute with more. All proceeds go towards expanding my work, including my parfumerie, publishing books, developing my humanitarian projects and creating content including courses and holistic programs.